READ UP! WRITE ON! LITERACY RULES!
Literacy is the foundation to success. National statistics show literacy proficiency declines as children advance to higher grades. Illiteracy increases the likelihood of becoming a high school dropout, entering the juvenile system, being on welfare, and unemployment.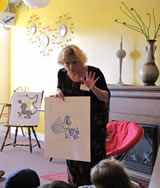 Children in our literacy programs will share the experience of being an author or illustrator in a supportive environment and discover the power of reading and writing.
They will learn what it takes to become a published author, all while improving not only their reading and writing skills, but vocabulary, math, collaborative learning, and organizational skills.
And, they will experience a sense of pride and accomplishment, having worked with a published children's author who will guide them through the process.
A very important aspect of our program is that it has been designed to help children see our differences as something positive. The long term goal of our programs is to build self-esteem and lower the incidents of bullying by giving children an opportunity to teach a lesson, message or value, express their feelings, and "Celebrate Our Differences".

View our Learning Outcome and Objectives.
See List of Schools visited.